I didn't vote for Mitt Romney to be the Governor of Massachusetts, but I do understand why my state elected him. I will therefore do my best to apologize to America on behalf of the Commonwealth for giving him the platform from which he launched his bid for the Presidency.
To be precise, 49.77% of the Massachusetts electorate on November 5, 2002 voted to elect Romney. In a five candidate race without runoff elections, that percentage was more than what's necessary for one candidate to win. Perhaps someday, winning more than 50% of the vote will be required to win, and this could best be accomplished with instant-runoff voting in my opinion, but that's for another discussion.
Mitt Romney wasn't always a winner here. He was soundly defeated when he ran for the U.S. Senate against Ted Kennedy in 1994. He could've easily been defeated again, but his Democratic challenger for Governor in 2002 was no Ted Kennedy. Shannon O'Brien was our State Treasurer, a job very few people pay attention to, so Massachusetts voters didn't really know her until she ran for Governor. She had four challengers from within the Democratic Party, most notably former U.S. Labor Secretary and current national TV pundit and author, Robert Reich, who finished 2nd. With 33% of the primary vote, O'Brien became the party's nominee. That means two thirds of the voters weren't convinced she was the most effective candidate. Again, a runoff vote would've been nice.
It seemed fortunate at first for Democrats that Romney wasn't effective at winning over voters' sympathies either. The voting public roundly mocked the multi-millionaire venture capitalist for the following TV ad in which he posed in various 'working man' scenarios:
Seeing Mitt wearing a hard hat as he hammers nails into a board is still funny ten years later. He wasn't just seen as phony then but also as a political opportunist capitalizing on the departure of a weak Republican governor, Jane Swift, who declined to run for another term. The Democrats, however, made themselves look petty by trying in vain to keep him off the ballot simply because he had spent much of the previous three years at his residence in Utah while managing the 2002 Winter Olympics in Salt Lake City, although he maintained a residence in a wealthy Boston suburb called Belmont. Mitt's success with turning around the financially unstable Winter Games was his key selling point, so it didn't help to call attention to this, and it also made it look like they feared him. They should have simply focused on his business record in Massachusetts, like Ted Kennedy did in 1994 (see video below). But Mitt's campaign was weak, and he was never able to gain the voters' trust. In September and October, he trailed in the polls to Shannon O'Brien and seemed destined for another defeat at the hands of Massachusetts voters.
Mitt's fortunes suddenly turned around a week before Election Day. During the final televised debate on October 29, Shannon O'Brien came across as a phony too, and for reasons more important to many voters. She decided to hammer Romney on his apparent wavering on the abortion issue, but when her views were called into question, she was the one who flailed. The late, great Tim Russert was the moderator of that debate, and in true Russert fashion, he demanded a straight answer for her view that sixteen year olds should be able to get an abortion without parental consent, noting that sixteen year olds cannot get a tattoo or buy cigarettes. Her response of "Would you like to see my tattoo?" was disturbing and confusing all at once. Even when her words were on point, she delivered them with a snarky, off-putting attitude. Had she not stumbled so badly in that debate, she likely would not have lost the race. Romney for once in his life seemed to be the less calculating politician during those finals two hours of prime time for both campaigns. When the next poll was taken, Romney had a five point lead.
On Election Day, Romney beat O'Brien 49.77% to 44.94% (4.83% difference). Green Party candidate Jill Stein got 3.49% of the vote, and the Libertarian and Independent candidates collected the rest. It's hard to predict how any of the other Democratic candidates would have fared against Romney, however Reich is well-known for his sharp debate skills and sense of humor. I voted for Warren Tolman in the primary, and I believe he also would have fared much better against Romney. I blame the party machine for Shannon O'Brien's candidacy. She is a fourth generation member of the Beacon Hill establishment - the Tammany Hall of Boston. For the record, I voted for Jill Stein in the general election.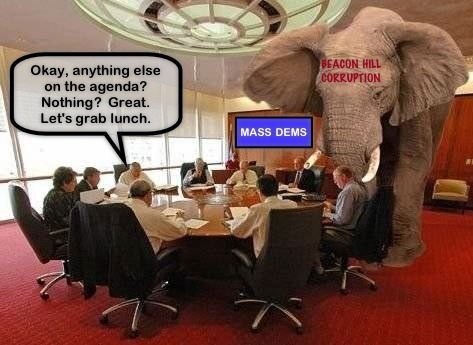 Massachusetts isn't much different from the rest of the United States in the sense that we don't have a functional democratic republic here either. It's arguably worse here, because we have a one party state, with a very full history of corruption, much of it recent. In the previous two decades, three consecutive Speakers of the House, all Democrats (85% of our state legislature is Democratic) have resigned due to corruption charges - one was indicted and is serving eight years in Federal prison. From 1991 - 2007, the ultra-blue state of Massachusetts had Republican governors (all of them politically moderate, mind you) and many of our citizens have cited voting for these Republicans simply to offset the power of the Democratic Party. Even as a registered Democrat myself, I completely sympathize with that rationale. But Romney was the last Republican in that line of defendants against the one party state. His administration was so awful, he broke our habit.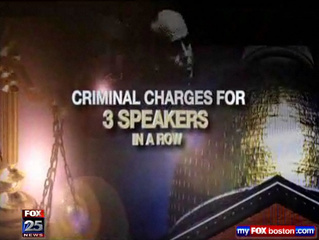 Romney only had a decent approval rating during the grace period any politician gets during the beginning of his term in office. He left office with a 34% approval rating - the lowest in Massachusetts history. Instead of raising taxes on the wealthy, he raised $400,000,000 worth of fees (he even tried to raise fees on the blind and mentally handicapped), and still left us with the highest per capita debt in the country. He vetoed anti-outsourcing legislation and as a result, Massachusetts lost 14% of its manufacturing jobs. His only success was his health care plan, which he now thinks is a terrible idea for the rest of the country. To no one's surprise, his Lt. Governor, Kerry Healey, lost badly when she ran for Governor after he left to run for President.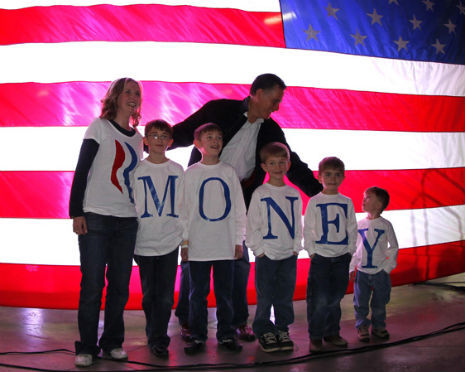 Mitt Romney isn't just an embarrassment for Massachusetts, he's an embarrassment for the Republican Party - the party of Abraham Lincoln, Teddy Roosevelt and Dwight Eisenhower. Another Republican embarrassment, Richard Nixon, defeated Mitt's father George in his bid for the Republican nomination for President in 1968. George Romney had successfully revolutionized the American automobile industry and was a popular Governor of Michigan, but then served in Nixon's cabinet as HUD Secretary and was ostracized. "Keep him away from me", Tricky Dick said of the more liberal Romney. George resigned before Nixon's 2nd term began and quit politics altogether. His wife Lenore also suffered a bitter defeat in her run for the U.S. Senate in 1970. Perhaps Mitt is driven to succeed in the one thing his family has yet to succeed in: national politics. After falling short in his run for President in 2008, he has succeeded this year in defeating several other Republican embarrassments, although he still finds it fitting to attend fundraisers put on for him by Newt Gingrich and Donald Trump, who seem to me to be fitting of the dictionary definition of despicable.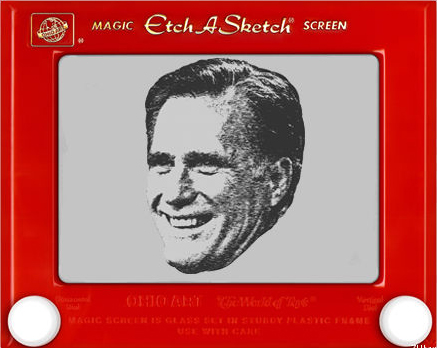 Perhaps it's just ridiculous to even try to comprehend what Mitt Romney thinks about anything. He doesn't appear to have any core convictions. He's proud of the success of the private equity firm he co-founded, Bain Capital, but when questioned about its practice of outsourcing jobs in the companies it took over, he distances himself from it, saying he left in 1999 before it all happened. When it was discovered he was still listed as the CEO and sole owner of Bain from 1999 to 2002, his campaign advisor Ed Gillespie claimed he "retired retroactively", whatever that means. And we're still left to wonder what his campaign spokesperson Eric Fehrnstrom meant when he said that after the primary season was over, the campaign would be shaken up "like an Etch-a-Sketch". As a candidate in Massachusetts, Mitt was stridently in favor of a woman's right to choose to have an abortion, yet refused to be labeled "pro-choice". Now as national Republican candidate, he is pro-life, in favor of overturning Roe v Wade.
He once even tried to convince us that his views were both "moderate" and "progressive" in the same sentence:
Massachusetts gave up on this guy years ago. In this state, he is trailing Obama in the polls by around 20 to 25 percentage points - more than in any other state. I am confident that the American voters will give up on him too, just like he has given up on any position his political calculations instructed him to change. That's change that no one can believe in.